18.05.2020
Report from the Soliz family
We are experiencing something that we and many of us Bolivians would never have thought of. The Covid 19 pandemic confronts us all with many new difficulties and challenges. The Ecological Youth Center Cajamarca is currently making great efforts to e.g.: providing food for our animals and the materials necessary to continue the various tasks…
Since our quarantine has reduced our profits very much, we do not yet know how to proceed. We do our best together with Deyni, Matías and Leo to improve the center further and take care that all animals and plants survives this time as well as possible.
There has been no economic movement in our city of Sucre for more than two months. Many people want to go to work because their savings are running out, many people have been fired. Food is also becoming scarcer every day and prices are rising.A full quarantine is still expected for the next few days as there is still a high risk of infection in our city. Some schools start with virtual classes so as not to miss the year.
Today, after 2 months and 2 weeks, they counted 5600 infected people. Our doctors, nurses, police officers do their best, even if protective clothing is very scarce. Thanks to God and our friends in particular thanks to Dona Annelie, we can still count on work and a salary, otherwise we would be in serious trouble. So our work in Cajamarca continues: repairing, construction, improvements, machine maintenance and much more.
Egg sales in Cajamarca are good at the moment, many neighbors come to the center to buy them. It is unbelievable how other traders are taking advantage of the situation and have made their prices more expensive. We keep our prices stable at 24 Elmaple of 30 eggs and also share our vegetables with all the neighbors. They also bring us their bread, potatoes and corn to share with us. 
We send very warm greetings from Bolivia - good health and blessings!
We thank you for the support without which it would be very difficult to get along during this time (which is very difficult for everyone on the world). We are thankful and lucky to have friends like you !
Greetings and hugs from the Solíz Paco family
.
.
12.05.2020
.
Our new fireplace awaits the time when our guests can tell stories and sing with us around the fire.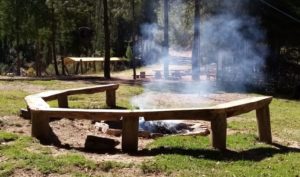 Newly created soccer field is waiting for exciting forest tournaments.
.
.
Newly built meeting table is waiting for friendly groups who meet here for cozy meetings.
.
.
24.04.2020
Excerpt from a message from Nathalie
(one of the Weltwärts volunteers from 19/20)
…"I feel I have arrived as far as possible again, although the current situation, even worldwide, is so strange that in my opinion one cannot even speak of "arrived".
I think of Bolivia quite often. To Marlene, Deyni, their families, but also to the small schoolchildren in Jumbate, whom I loved so much. It hurts me a lot that I couldn't say goodbye to some people and only inappropriately and stressfully to others…
However, I also see this unusual departure as another reason to definitely come back to Bolivia, to see all these people again and to discuss the strange, then hopefully past, Corona situation together and to talk in reality and not just via mobile phone. I am in constant contact with Marlene, which is very pleasant. Hopefully the crisis will pass fairly quickly, so that the situation can improve, especially in countries like Bolivia.
Apart from the unusual end of our international service, I am incredibly grateful for the opportunity to live and work in Bolivia and to have got to know an unknown country from scratch. You haven't seen everything by far, and that's why I definitely want to come back when I have the opportunity.
I was also very happy about the Tarabuco location and living with Marcel, which could not have been more relaxed. And in the CEJ I felt super welcomed and loved how you and Andres supported us and always had an open ear. 🙂
Therefore, a big thank you to you and the CEJ for a nice family feeling that you always had in mind. Christine and I ended up visiting Vicente Vargas several times, so I would have loved to go there longer and will definitely do it again on my next visit."
...
Until then, all the best and best regards
Nathalie
.
.
28.03.2020
Christine, a Weltwärts volunteer from the CEJ ´19 / ´20 writes an exciting report of her rash departure from Cajamarca
(caused by the corona pandemic)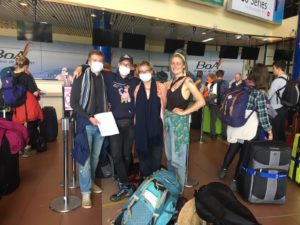 Hello Annelie,
The experiences of the past few days are very chaotic and everything in my head only turns when I think about it.
I hope to be able to get the whole thing across in a reasonably understandable way.
We had known for a long time that we had to end our year earlier, but had the news that the earliest flight would be in April. We were a bit reassured that we still had time to say goodbye … But …
Everything should turn out very differently than expected. On Tuesday afternoon I got the news from Max Steiner that Friday there is a flight to Germany that we are very likely to take.
I was devastated because the world in Cajamarca was so wonderfully normal and because of the quarantine the family of Ronald, together with the family of your sister and Aleja with husband all upstairs and a hustle and bustle of bread baking, washing clothes and playing with the children, Max ran a bit more free again ... Leo had bought for both of us, Ronald and family were taken care of so that we shared and ate in the morning and evening. Ronald played a few children's songs for Mathias around the campfire in the evening ... In short, our world was very healthy.
That's why the news hit me with full force, I could never have imagined that authorities could suddenly work so quickly.
I had a pretty violent cramp and only let Deyni, Ronald and Leo calm me down ... Then Deyni decided to go to Aleja and eat soup and potatoes cooked in the ground. It was an exuberant mood, Mathias played with his great and we sat together on the meadow in front of their house to admire the view ... Everyone was a little incredulous and somehow understood my shock. With that, they all made me a wonderful last day in Cajamarca.
After that it was time to pack ... The three young kittens didn't want to stop playing with my things, the little locki Junior was constantly dragging my clothes outside the door ... I stood between all of them, couldn't understand it and somehow worked ... .
In the evening we had dinner together in the front of the kitchen and joked Deyni to me. Ronald was with the children.
I could not sleep the night, also because it was not yet clear how I should come down to Sucre on Wednesday ... That also cleared up very quickly ... So that we should be down in Punilla at lunchtime. Leo drove me, we were accompanied by Deyni and Mathias. Then while we waited for the taxi downstairs with permission, the campers on the roadside and I watched each other. Don Raimundo came over chewing Coca and I played with Mathias.
The taxi finally came, the driver was completely excited because he was checked so often and I had no mouthguard and the Deyni and I then improvised on the trip, after fever fairs and six military checks we were finally with all luggage (also from Lorena ) arrived in Sucre at home. Where the big repacking started ...
After some difficulties on the way we arrived in Cochabamba at 2am, but were still able to sleep on the bus for 4 hours after we asked the bus drivers not to throw us out. At six the night was over and we had to walk the last bit to the airport ... Arrived there ... Further waiting ... Until we could finally start to check where visa problems appeared to many ... In the end we are that is why I flew late from Cochabamba at 11.30am, after we still had luggage hysteria, I have many other things in my backpack that were too heavy for others ...
Off to the plane ... everyone is glad that it finally continues in this unreal mood. Already in Cochabamba we had heard that the flight in Santa Cruz was brought forward and we were all happy about the shorter waiting time.
A corona test was announced, which however consisted only of multiple fiber measurements. We waited a long time in the airport, luckily we were able to share food with the others because we hadn't eaten anything since Wednesday morning and were starving accordingly. After some anxiety, the last of our group finally had their ticket shortly before departure.
Then we went on the plane. Two-story ... huge ... direct flight to Frankfurt. A little exchange with other volunteers, travelers, but actually no one really wanted to talk about the reason for our return.
And while the European landscape is flying past us again, thoughts are slowly arriving in Germany, thoughts how do we get home ?! And what will it be like to see everyone again. I know that the time was not yet there to take this step, but in another way, it is right to be back in Germany. I will think about how to go about building a small base so that I can fly back to Bolivia later.
Best regards Christine
Stay healthy and take care of yourself!
.
.
03.03.2020
Waste separation and rules

29.02.2020
Thanks to the great commitment of our employees, some vegetables are growing again and the flowers are also shining in bright colors, which gives us pleasure.
.
05.02. 2020
On the initiative of Ronald Soliz, responsible for CEJ, employees of "One Dollar Brille e.V." visit the nearby village of La Punilla and offer good simple glasses. Our Weltwärts volunteers from the CEJ also help.
The glasses are made on site using a simple bending machine. People are first tested and immediately receive the right glasses afterwards.
The lenses have the strengths from -6.0 to +6.0 diopters.
.
30.01.2020
Thick hailstones have destroyed a large part of our vegetable crops today. We expect a crop loss of at least 50%. These weather phenomena occur regionally in the Andes.
03.01.2020
We are happy about the article about our center in the magazine amaszonas.

01.01.2020
We wish you all a wonderful new year and new decade. We assume that many people around the world can take many small steps to change the face of the world for making it better. You are wellcome to participate in our project by continuing to tell about us – or bring your skills here to work with us – or spending a few relaxing days here with us – or with a donation to the project.
With kind regards from the staff of the CEJ.
Dezember ´19
Today we bought construction material.
Again we will devote ourselves to the beautification of our hostels
NOVEMBER 2019

And again, as every year, we plant the potatoes.
OUR FIRST TRIALS WITH THE BOX – WE KEEP YOU ON THE RUN!

September 2019
SEPTEMBER 2019
WE LOOK FORWARD TO THE NEW PARTNERSHIP WITH THE NATIONAL PARK OF STEIGERWALD

AUGUST 2019
PLANT ACTION WITH TARVITA STUDENTS
WE LOOK FORWARD, 100 CONSTRUCTION TIES TO THE SCHOOL CLASS OF PROFA. LILIAN MAMANI ROJAS, FOR HER PRACTICAL TEACHING, HAVE BEEN RENEWED WITH HER STUDENTS IN TARVITA.
AUGUST 2019
REGULARLY VISIT OUR SCHOOL CLASSES
WITH YOUR TEACHERS TO EXPERIENCE PRACTICAL TEACHING IN OUR ENVIRONMENTAL CENTER.
JULY 2019
IVAR AND FLORIS, TWO NETHERLANDS WORLD REGISTERS
AND ECO-ACTIVISTS VISIT OUR CENTER.
JUNE 2019
NUMEROUS ANIMALS REST IN OUR FOREST.