18.08.2023
Our CEJ team is pleased and proud to welcome our guests who come here to enjoy and value all that we have achieved!
02.08.2023
The best time to grow a tree was twenty years ago. The next best time is now:
26.07.2023
Here you can see just renovated accommodations, there is something for each visitor to feel comfortable with us.
18.07.2023
Our natural swimming pool is waiting for warmer times, the water fed by our springs, always remains clean and inviting due to natural renewal:
10.07.2023
We are constantly adding to and improving our accommodations, using mainly the wood from our trees:
27.06.2023
Some of our residents:
26.06.2023
Neighbourhood work to lay water pipes to the houses around the CEJ. It is a very labour-intensive but also rewarding activity:
15.06.2023
The guests are welcome in our freshly refurbished accommodation:
10.06.2023
Now the focus is on renovating our accommodation:
01.06.2023
Here we collect firewood from our forest. The nights can get very cold at this time of year. As each of our guest houses has beautiful fireplaces, none of the residents or our guests need to freeze!
20.05.2023
…then here are sliding covers for our new tree nursery:
12.05.2023
We have already prepared over 7000 planter bags with good growing soil and are planting the germinated seedlings here, which we hope will one day become big, strong trees!
30.04.2023
Here you can see our harvest of pine seeds for our nursery. They germinate protected from the sun.
15.04.2023
Now still a water-permeable and stable subsoil of natural stones – then our seedlings can move in here soon! 😊
🌱🌱🌱🌱🌱🌱🌱🌱🌱🌱🌱🌱🌱🌱🌱🌱🌱🌱…………………… and many more!
05.04.2023
Our greenhouse for seedling production is progressing quite well:
20.03.2023
Today we are starting to build and set up a new nursery for raising forestry, fruit and flower seedlings for at least 50,000 to 100,000 seedlings within the next few months:
15.03.2023
Construction of chairs for the meeting room of the CEJ, from our pine and cedar wood. Our laboratory is well equipped with tools for this.
20.02.2023
After two years in charge of the seven municipalities of Punilla and the district of Cajamarca as mayor, we have fulfilled our duties responsibly and would now like to hand over the mandate to new people who are interested in taking responsibility for our communities.
Here: Ronald Soliz (also responsible of the CEJ) at the ceremonial dismissal from the mayor's office.
14.02.2023
There are magnificent views and countless ways to discover. Who wants to find peace with us to draw new strength for themselves:
30.01.2023
We open the swimming season with our pool filled with clear and clean spring water.
15.01.2023
After long months of waiting, it has finally rained! Our trees, flowers, meadows and fields come to life again and shine in vibrant colors. The birds of the forest and all the other animals here, remind us of the wonderful diversity that life has to offer.
New Year 2023
We wish you and all of us a successful and healthy year 2023!
Christmas 2022
With these Christmas dances in our centre in Cajamarca, we wish you and ourselves, that all of us do not forget the joy of celebrating together, – despite all the crises! Merry Christmas and see you soon in 2023, your CEJ team. 🌟
01.12.2022
We wish our friends all around our wonderful earth a peaceful season of Advent!
10.11.2022
Opening of an organic congress to formulate reforms and norms for the communities:
01.11.2022
On Dia de los Muertos / All Saints' Day,  1 November, we decorate a house altar together for the souls of our deceased. We bake small loaves of bread together with symbolic value and we sing and pray there.
20.10.2022
Handover of the new water pipe for the inhabitants of Cajamarca. Second from the right / Centre Manager of the CEJ and Mayor of the 7 surrounding municipalities: Ronald Soliz
15.09.2022
After a hike in the forest, a refreshing swim in our solar-heated swimming pool, and then ending the evening with friends around the fire with music.
05.08.2022
20.07.2022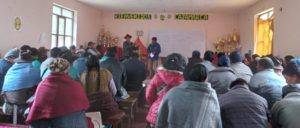 11.06.2022
We welcome everyone who comes to visit us and enjoy our green oasis.
26.05.2022
25.05.2022
Our new tree climbing park will be opened soon: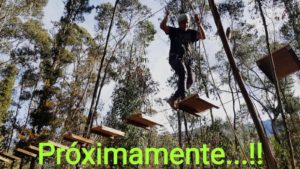 15.05.2022
We welcome our visitors from near and far, with tent or overnight stays in one of our houses!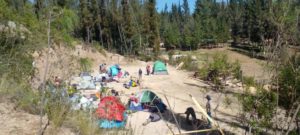 01.05.2022
Annelie Dehmel was first bidden farewell in the circle of her large family and numerous friends in Alsbach/ Germany and today also in her second home with a funeral ceremony of her family, friends and neighbours in the forest of Cajamarca.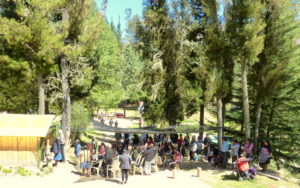 29.03.2022
Annelie Dehmel died peacefully on Sunday evening surrounded by part of her family.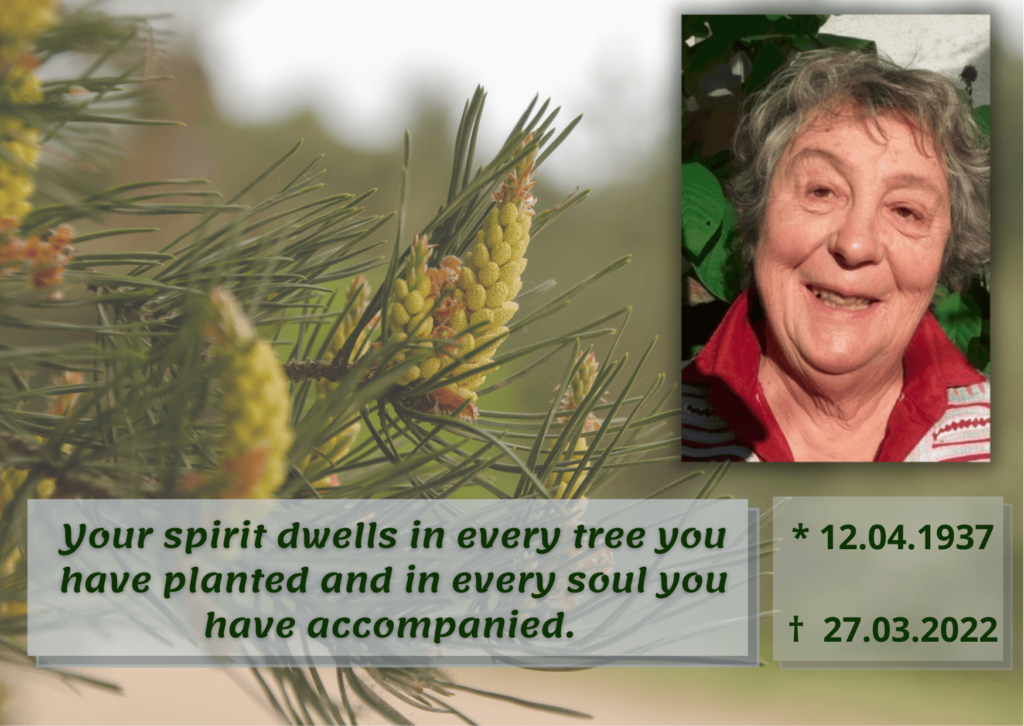 22.02.2022
We celebrate carneval in our centrum with members of the CEJ and guests.
     
17.02.2022
Here we are building new accommodation for our guests and continue to renovate our existing ones.
15.02.2022
We are always renovating for the comfort of our visitors.
04.01.2022
In Cajamarca working with wood from fallen trees. We are going to sell these boards to Bolivian traders so that they can transform them into tables and chairs and sell them.
15.12.2021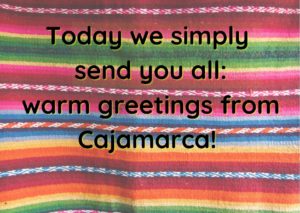 06.12.2021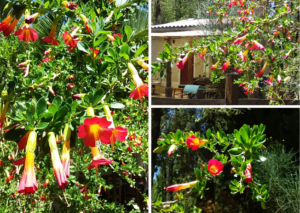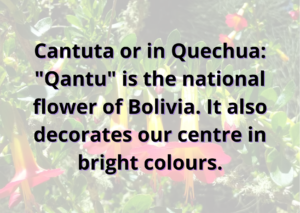 20.11.2021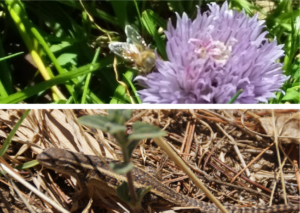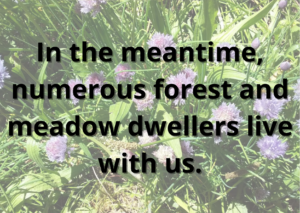 03.11.2021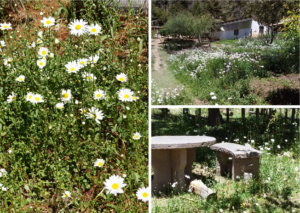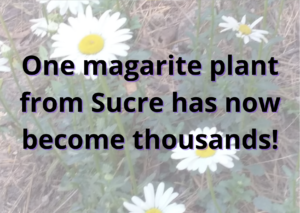 10.09.2021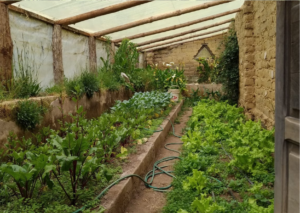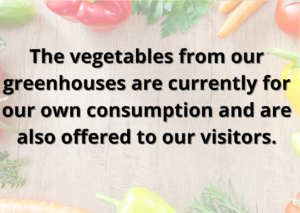 29.09.2021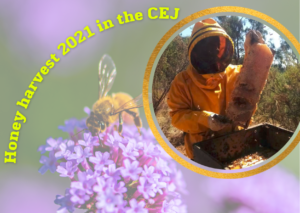 20.09.2021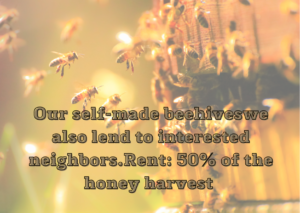 10.09.2021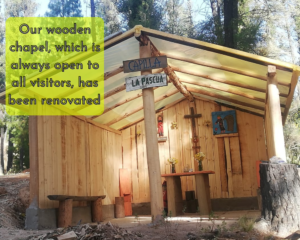 15.08.2021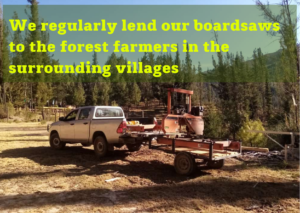 14.08.2021
Wood transport from the forest

30.05.2021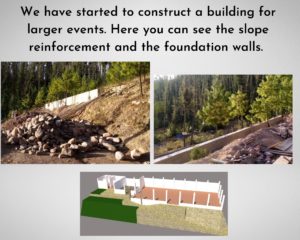 15.05.2021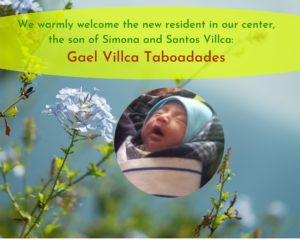 30.04.2021
26.03.2021
23.03.2021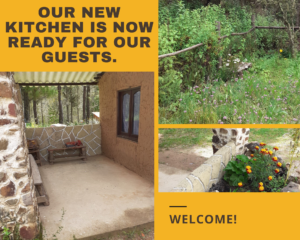 20.03.2021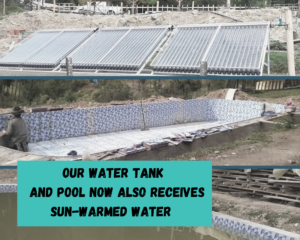 12.03.2021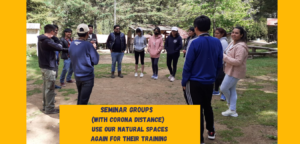 23.02.2021
We celebrated the C'oa in our center:
The C'oa is a "gift of thanks and intercession" to the "Pachmama". Every year after the harvest, the families, the communities, the groups of friends in Bolivia celebrate their C'oa ​​festival with a flower arrangement made from llama wool and fat, spices and herbs from the region, colorful ribbons and small picture plates with all the wishes of the celebrants.
The harvest festival in Europe is comparable to the challah. During the C'oa, people ask Pachamama for protection e.g. for your goods, your house, your field, a well, an animal and e.g. also her car which she should transport safely. A symbol for something special like a heart, coca leaves and banknotes are also included. Everything is decorated with garlands, flowers and streamers. Together with aromatic wood, everything is set on fire and sprinkled with alcohol. The smoke is said to have a sanctifying effect. The ashes are then buried in the earth to be given to the Pachamama. There is good food for everyone with vegetables, meat and potatoes. Dancing and making music are also part of it.
11.02.2021
The water collection basin will soon be finished:
22.01.2021
Our new residents, the two llamas, have made friends with Max the horse: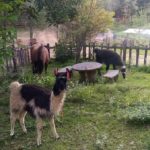 26.12.2020
We deeply mourn the loss of our beloved Deyni Paco Torres Soliz!

She died in a bus accident on December 21, 2020
15.12.2020
Our little forest chapel gets its Christmas decorations with nativity scene and flowers:
12.12.2020
Our new rainwater catchment basin is slowly taking shape, here the bottom is being laid: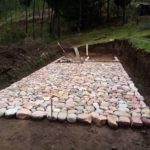 11.12.2022
Jewellery course carried out with the support of the CEJ to the young workers of the general cemetery of Sucre/ Bolivia.
10.12.2020
We are proud to present you the new stairs to our lookout point:
07.12.2020
Exploring turkey and chickens: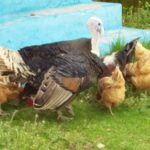 03.12.2020
Aleja, Ronald and Andrés bought our two newest roommates: two llamas. From the cattle market near Potosi they brought the two to us in the center. Max, our horse, was especially happy about the two.
30.11.2020
We use this corona pandemic to repair and restore. Here are Simona and her husband Santos mending the roof. Deyni gives the cable car tower a new coat of paint.
26.11.2020
The six-month honey harvest gave us around 20kg of the best wildflower honey. It is popular and passed on to friends of the center.
23.11.2020
Here is our second newly created carp fish pond. We still have to catch the carp.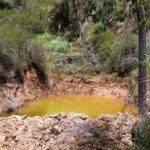 20.11.2020
Our plantings urgently need more rain! We water where it is possible and longingly wait for the rainy season.

11.11.2020
Inauguration of the new aqueduct for the village of Cajamarca near the center. Ing.Ronald Solís (with red poncho), head of the Centro Ecológico Juvenil, initiated this important infrastructural improvement during his tenure as mayor. This project was funded 75% by the state and 25% by the city of Sucre.
15.09.2020
We have two new employees: Simona Tabuada and Santos Villca, a young couple from a village near Potosí. Both now work in the ecological youth center in agriculture and forestry, animal care and renovation work and in future also in guest care. Welcome!
16.08.2020
Plant potatoes
And again we plant potatoes. Bovine are an important support for us.
18.05.2020
Report from the Soliz family We are experiencing something that we and many of us Bolivians would never have thought of. The Covid 19 pandemic confronts us all with many new difficulties and challenges. The Ecological Youth Center Cajamarca is currently making great efforts to e.g.: providing food for our animals and the materials necessary to continue the various tasks…
.
.
12.05.2020
. Our new fireplace awaits the time when our guests can tell stories and sing with us around the fire.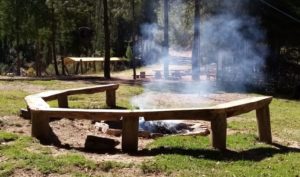 Newly created soccer field is waiting for exciting forest tournaments. 16.08.20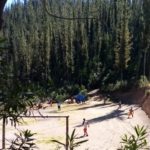 .
. Newly built meeting table is waiting for friendly groups who meet here for cozy meetings.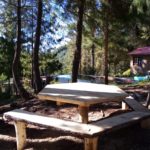 .
.
24.04.2020
Excerpt from a message from Nathalie (one of the Weltwärts volunteers from 19/20)
…"I feel I have arrived as far as possible again, although the current situation, even worldwide, is so strange that in my opinion one cannot even speak of "arrived". I think of Bolivia quite often. To Marlene, Deyni, their families, but also to the small schoolchildren in Jumbate, whom I loved so much. It hurts me a lot that I couldn't say goodbye to some people and only inappropriately and stressfully to others…
.
.
28.03.2020
Christine, a Weltwärts volunteer from the CEJ ´19 / ´20 writes an exciting report of her rash departure from Cajamarca (caused by the corona pandemic)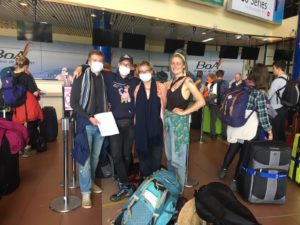 Hello Annelie, The experiences of the past few days are very chaotic and everything in my head only turns when I think about it. I hope to be able to get the whole thing across in a reasonably understandable way. We had known for a long time that we had to end our year earlier, but had the news that the earliest flight would be in April. We were a bit reassured that we still had time to say goodbye … But …
.
.
03.03.2020
Waste separation and rules

29.02.2020
Thanks to the great commitment of our employees, some vegetables are growing again and the flowers are also shining in bright colors, which gives us pleasure.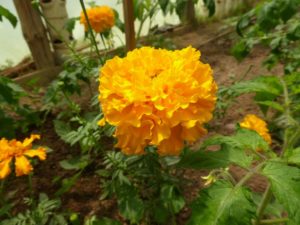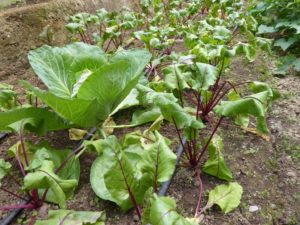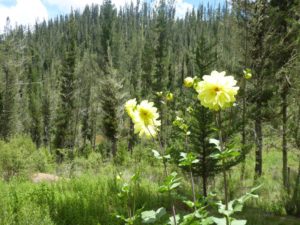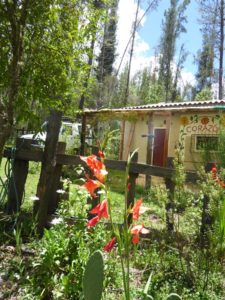 .
05.02. 2020
On the initiative of Ronald Soliz, responsible for CEJ, employees of "One Dollar Brille e.V." visit the nearby village of La Punilla and offer good simple glasses. Our Weltwärts volunteers from the CEJ also help. The glasses are made on site using a simple bending machine. People are first tested and immediately receive the right glasses afterwards. The lenses have the strengths from -6.0 to +6.0 diopters.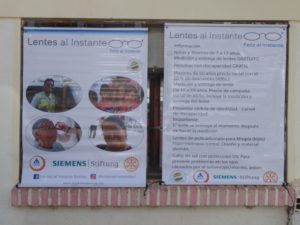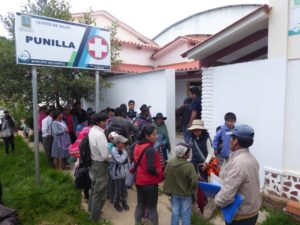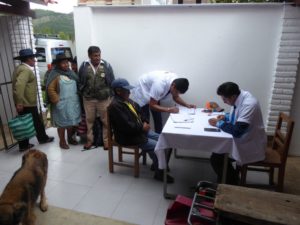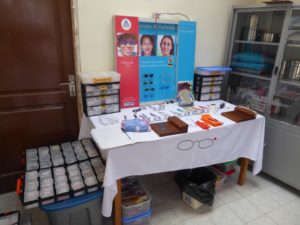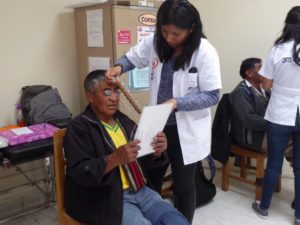 .
30.01.2020
Thick hailstones have destroyed a large part of our vegetable crops today. We expect a crop loss of at least 50%. These weather phenomena occur regionally in the Andes.
03.01.2020
We are happy about the article about our center in the magazine amaszonas.

01.01.2020
We wish you all a wonderful new year and new decade. We assume that many people around the world can take many small steps to change the face of the world for making it better. You are wellcome to participate in our project by continuing to tell about us – or bring your skills here to work with us – or spending a few relaxing days here with us – or with a donation to the project. With kind regards from the staff of the CEJ.
Dezember ´19
Today we bought construction material. Again we will devote ourselves to the beautification of our hostels
NOVEMBER 2019
And again, as every year, we plant the potatoes.
OUR FIRST TRIALS WITH THE BOX – WE KEEP YOU ON THE RUN!

September 2019
SEPTEMBER 2019 WE LOOK FORWARD TO THE NEW PARTNERSHIP WITH THE NATIONAL PARK OF STEIGERWALD

AUGUST 2019 PLANT ACTION WITH TARVITA STUDENTS WE LOOK FORWARD, 100 CONSTRUCTION TIES TO THE SCHOOL CLASS OF PROFA. LILIAN MAMANI ROJAS, FOR HER PRACTICAL TEACHING, HAVE BEEN RENEWED WITH HER STUDENTS IN TARVITA.
AUGUST 2019 REGULARLY VISIT OUR SCHOOL CLASSES WITH YOUR TEACHERS TO EXPERIENCE PRACTICAL TEACHING IN OUR ENVIRONMENTAL CENTER.
JULY 2019
IVAR AND FLORIS, TWO NETHERLANDS WORLD REGISTERS
AND ECO-ACTIVISTS VISIT OUR CENTER.
04/30/2019
30.04.2019
The Sucrenser music group "Los Masis" celebrated in 2019 with us in the forest with dancing, singing and instruments. Being part of the culture of the Andes and the Latin American continent is important to them and us!