28.01. 2020           Terra Preta – Report by Klaus Kretschmer
In 2014 I managed to produce the black earth – the "black revolution" from the rainforest. And that at an altitude of 3200 m. Then I got the idea to pass the secret on to students, volunteers and neighbors through workshops:
How is Terra Preta made? – We need 3 things:
1. A pyrolysis furnace: charred from forest waste such as branches and bark, so that biochar with phenomenal properties is created: -Extremely porous like a sponge that stores water, nutrients and microorganisms. And this carbon (carbon vegetable) also binds CO2 permanently in the soil. One of the most sensible climate protection techniques!
2. EM -Effective microorganisms: you can buy: 5 liters for 75 € – or we produce our own EM according to Dr. Cho's Natural Farming (South Korea). Our EM manufacturers Abigail and Zulema have had great success with it. Swiss chard and salads thrive to giants with the organic fertilizer EM.
3.Organic kitchen waste: Vegetable and fruit residues are cut into small pieces, compacted in layers in a Bokashi bucket (self-made) and treated with EM and biochar. The bucket with lid is constantly closed airtight. Comparable to sauerkraut production. The fermentation of 4 weeks makes the kitchen waste rich in vitamins and more digestible for the busy earthworms. This quick composting e.g. in the raised bed is more effective than the usual compost heap.
Conclusion: Thanks to Terra Preta, we know what the basis for a healthy food is: – the living organism humus – the "mother earth" – and we now also know how the world can still be saved in the face of climate change.
Photos: Handful of Terra Preta / Pyrolysis oven, self-made / "Carbon Vegetal" biochar / The EM manufacturers Zulema, Abigail and Alfredo / Swiss chard thrive with EM / Bokashi-bucket self-made photo / Isabell from Germany and Klaus help our neighbors Mario to build his raised bed with a weather roof that will protect tomatoes and the earth from erosion by heat and heavy rain.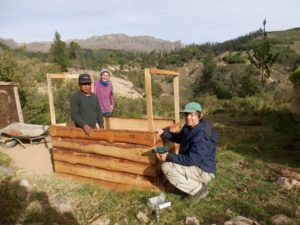 Casa Klaus – a model house for ecological building and self-sufficient living
– All building materials are self-made, the rammed earth walls from the earth in front of the front door – windows, floors, stairs and all furniture are made of wood on site, also with the help of volunteers – roofing is a green roof made of earth and grasses (spontaneous vegetation) – A photovoltaic system provides electricity 12 V / 230 V and a thermal solar system for warm water in the kitchen and bathroom. It can comfortably accommodate up to 6 people.